Itinerary of the Golden Ring – what to see, taste and bring
The trip to the Golden Ring cities is a fascinating way to get acquainted with your native country!
The Golden Ring itinerary is a great vacation option for curious travelers. It can be stretched or shortened in time depending on your capabilities, but the experience will be many anyway. You can explore these old Russian towns by car, stopping in places not spoiled by travelers, or you can take a train, or buy a ready-made tour to be sure to see all the most interesting things!
Sergiev Posad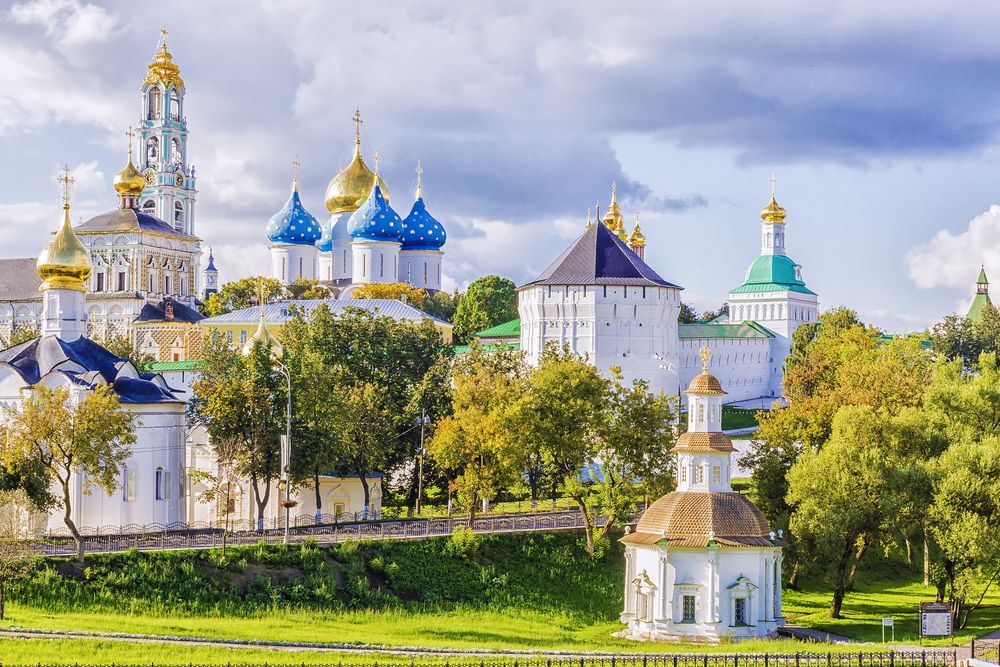 The Trinity Sergius Lavra is the largest monastery in Russia
Traditionally, the starting point of the Golden Ring itinerary is Moscow – from the capital you can travel to Sergiev Posad. The main attraction is, of course, the former secluded hermitage of Sergius of Radonezh, which for 700 years has become a dazzling Lavra. Please note that only closed clothes with long sleeves are allowed to enter its territory, and women should take care of their skirts and shawls. After viewing the cloister, go to the Kelaar pond, and then to the Toy Museum with its touching collection. You can continue to be nostalgic in the ancient quarters surrounded by wooden houses. For those who are not limited in time, we advise to visit Abramtsevo estate with a shady park, village of Vzglyadnevo with a waterfall Gremyachiy Klyuch и Paraklitov Desert with such a rare nowadays peaceful atmosphere.
What to try: In the Lavra refectory you can taste delicious pies, kvarezhka, kvass, willow-herb and honey at reasonable prices.
What to bring: religious attributes, products from birch bark, down scarfs, Bogorodsk bears.
Pereslavl-Zalessky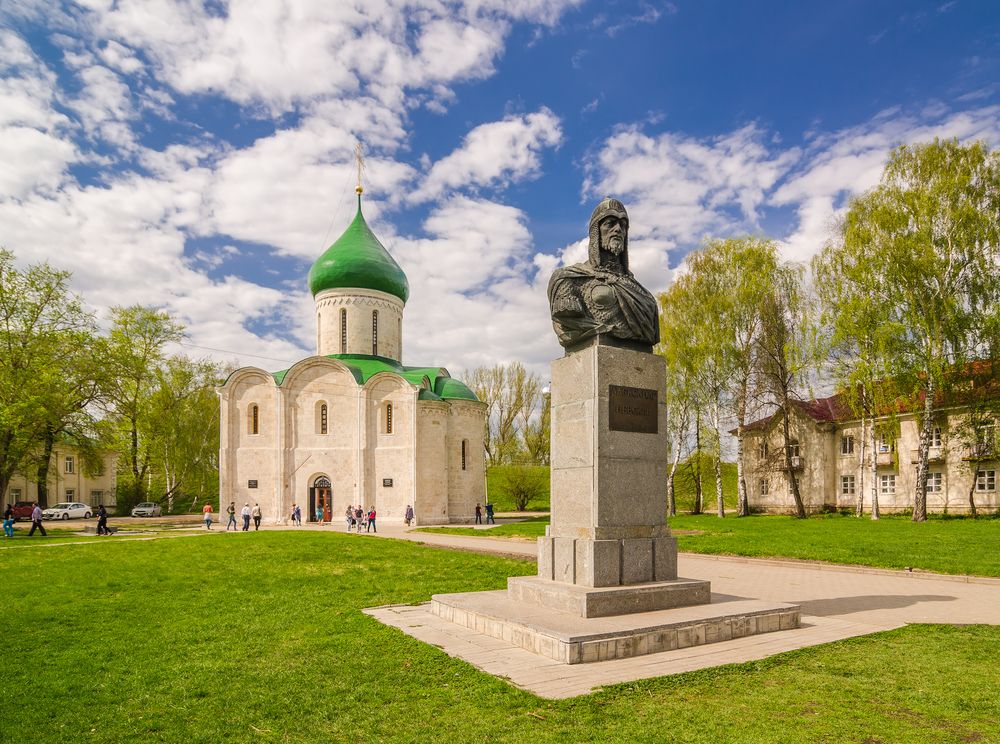 There are so many interesting sights in Pereslavl-Zalessky that you want to stay here longer
After Sergiev Posad, the route of the Golden Ring leads to Pereslavl-Zalessky. The city is so rich with sights that it is necessary to plan the time of the visit carefully in order to see all of them. There are more than a dozen of churches and monasteries – and all of them are worth seeing at least for their antiquity. Make sure to spend time in the museums: Ethnographic "The Horse in the Coat, Tenerife's historic Alexander Nevskiy, informative To the Radio Museum и Money stories, And then there's Railway Museum, Ryapushka Museum, Cunning and ingenuity… For a long time will be remembered and raise your spirits excursion Museum of the Iron and the Kettle. Peter the Great's Botik – One of the oldest Russian museums, after visiting which you should enjoy marvelous scenery Lake Plecheevo, where Peter the Great built his famous poteshnaya flotilla. On the shore of the reservoir lies Blue Stone – A boulder of impressive size and an unusual blue-gray color, considered for centuries to be a miracle worker. And that's not all: the pagans Alexander's mountain, The Kremlin in the center of the city, Russian Park и "Berendey's House with funny events in the traditional folk style. So you want to stay in Pereslavl at least for a week – thanks to the developed infrastructure it allows to do it.
What to Try: You are to try try smoked fish, pancakes with red caviar, sbiten, and tea from a samovar.
What to bring: A variety of souvenirs from the museums – ceramic and cast-iron irons, copper samovars, porcelain dishes, coasters for hot dishes, etc.
Rostov the Great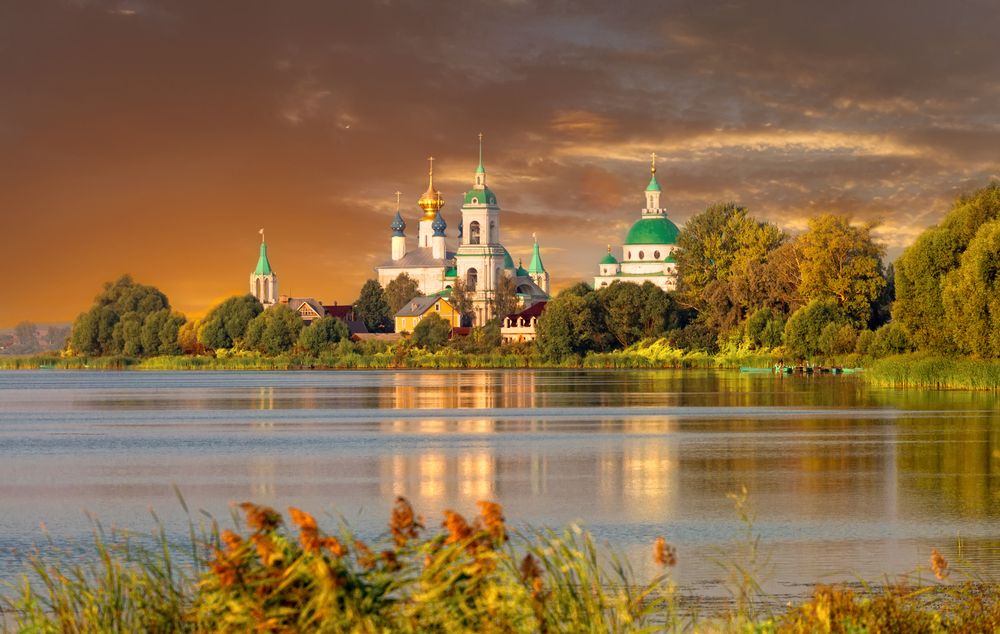 Rostov Veliky Dome is famous all over the country!
And we are on our way. Next in line are.. Rostov the Great. arched crossings Kremlin will surely seem familiar to you, because a comedy was filmed on its territory "Ivan Vasilievich changes his profession". В Sarskoye Gorodis The famous Russian hero Alyosha Popovich lived in the wonderful Museum of Tsarevna the Frog There are more than a thousand kvakushkas collected, and in the The Rostov Finift Museum You can view the masterpieces of local artisans. Borisoglebsky, Spaso-Yakovlevsky и Bogoyavlensky monasteryare interesting not only for pilgrims: to walk along the ancient walls and to absorb centuries-old power with your soul and eyes is worth for every guest of Rostov. And after a walk along the seashore Nero Lakes Rostov has a voracious appetite: the city knows about it, and most of the restaurants and cafes offer the ever-hungry tourists a wide choice of traditional Russian dishes.
What to Try: Rostov pikeperch soup, roasted pikeperch, mushroom dishes, mors, mead.
What to bring: Rostov finift, black-glazed pottery, gingerbread…
Yaroslavl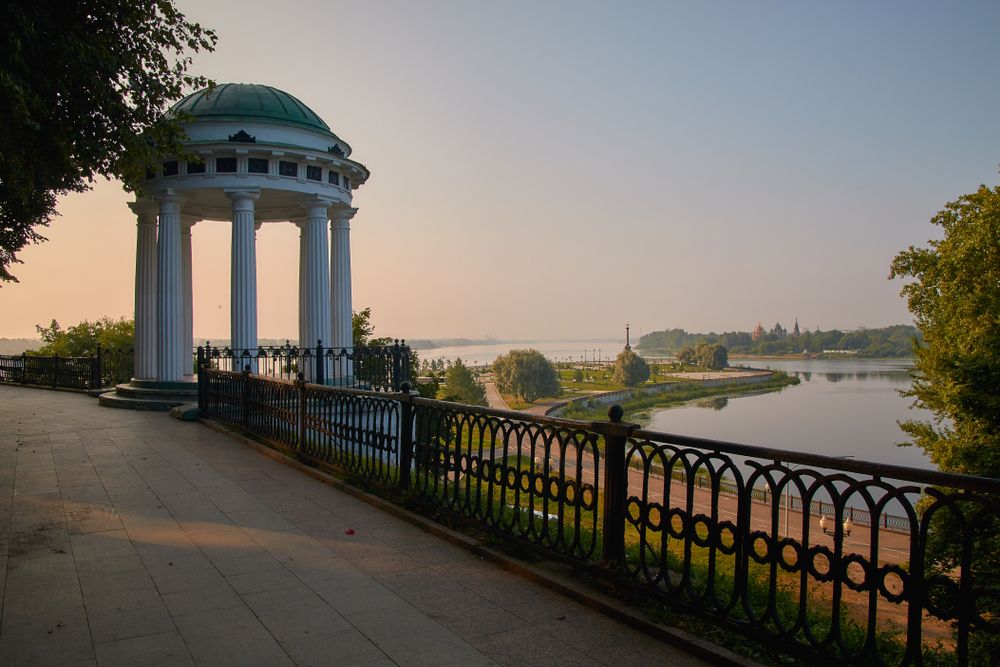 Old buildings in Yaroslavl blend harmoniously with newer ones
Yaroslavl – a real diamond in the Golden Ring. The itinerary of the city should be carefully thought out – unless, of course, you plan to stay here for a long time. On the banks of the Volga shine crosses crowns of churches, merchants' mansions, crowds of strollers on the quays. Start your acquaintance with Spaso-Preobrazhensky Monastery, Beyond its walls you will see a cathedral with frescos from the times of Ivan the Terrible, a belltower with a view over the city, ancient cells, museums with unique collections and a living symbol of Yaroslavl – Masha the Bear. Almost every temple in the city is a treasure trove of Russian religious art, but not every traveler can afford the luxury of visiting them all. Stop at The Church of Elijah the Prophet, The Snow Maiden herself, who preserved the original samples of painting and architecture of the XVII century. Inside you can admire the magnificent frescos, which can impress with the richness of colors and the craftsmanship. Volga embankment – One of the most beautiful in Russia, so don't deny yourself the pleasure of walking and breathing fresh air surrounded by lush flowerbeds, artistically trimmed trees, original benches and fountains. "Aleshin's Farmstead Surprise you with an unconventional approach to tours and stories about Russian traditions. In a real hut you will be welcomed by fairy-tale characters, who will show you ancient weapons and unique averters, will initiate guests into bogatyrs and will make your wishes come true with the help of Firebird's feather. You can see with your own eyes the masterpieces of painting in the Yaroslavl Art Museum, plunge into the magical atmosphere of the treasures from your grandmother's trunk at the museum "Music and time, and appreciate the landscape design abilities of Yaroslavl residents – at the Governor's garden.
What to try: Volga soup, fish of all kinds, kulebyaka.
What to bring: All sorts of bears – teddy bears, ceramic bears, wooden bears, ceramic tiles, bells, Poshehonsky cheese, Yaroslavl beer.
Kostroma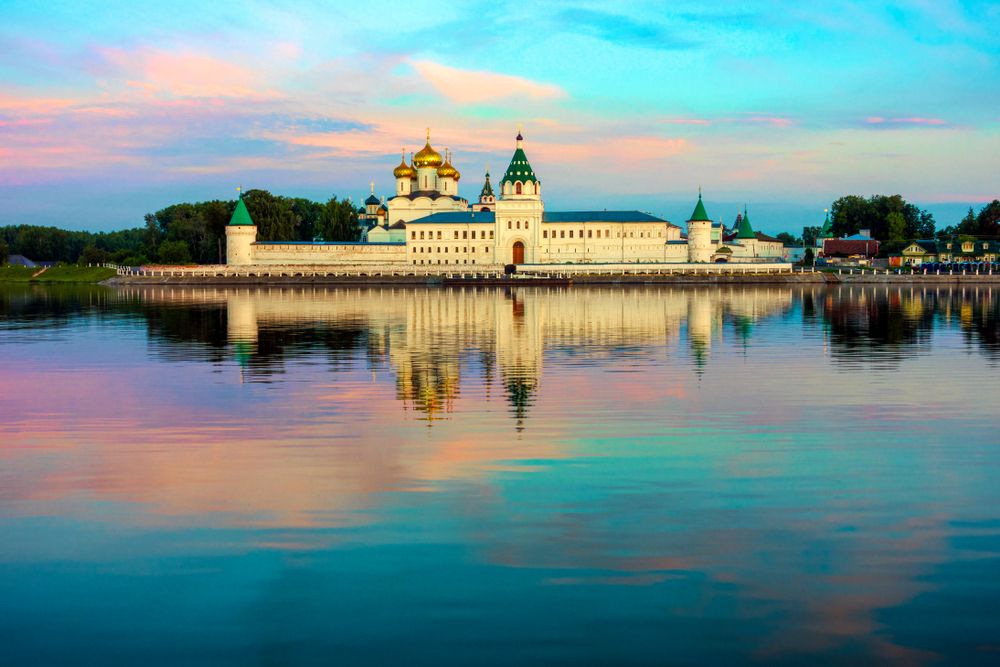 Who would refuse to visit the Snow Maiden herself??
Kostroma – Fairy tale time machine, which will take you to the times of the Romanov House accession. Ipatiev Monastery, where Mikhail Romanov was elected, a must-see cultural program. All the ancient buildings are worth seeing: the magnificent cathedrals, the shrines, the royal chambers and the Baroque gates. Other churches in Kostroma are also noteworthy: Church of the Resurrection on the Debrya with many domes, Elijah the Prophet Gorodishche on the site of the former temple, of the Savior Not Made by hands in the center of the shopping malls, the Old Believer Transfiguration. Museums offer to see unique collections of historical documents, religious exhibits (Historical and Archival Museum on the territory of the Ipatiev Monastery); weapons, medals, orders, banners (Military Historical Museum); objects of noble life ("Noble Assembly"); creations from traditional materials (Museum of flax and birch bark). You can spend unconventional time on a tour "In Ivan Susanin's Footsteps, museum "Forest-Charodei." and at moose farm. And to continue your immersion in the fairy tale you can Visiting the Snow Maiden – the granddaughter of Santa Claus has an interactive museum, a tower and a private residence, where every day is the New Year.
What to try: fish dishes, cabbage soup, porridge, jam, mead.
What to bring: The Snow Maiden under the Christmas tree, birch bark products, Petrovskiy clay toys, cheese, clothes and accessories made of linen.
Ivanovo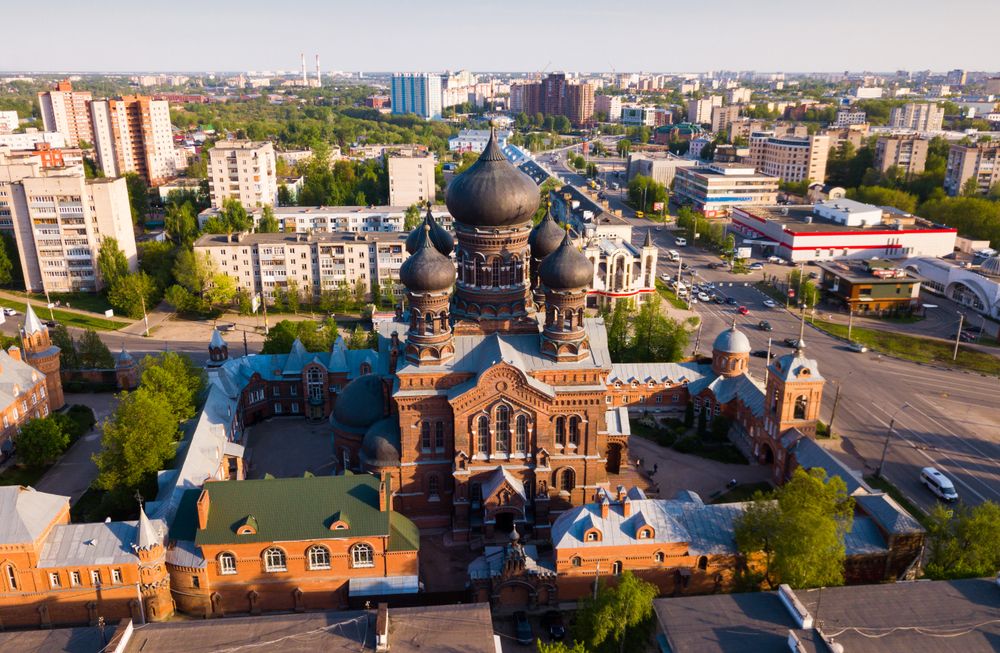 City of brides, where making textile became a separate genre of art
Golden Ring Route turns to the city of brides. Ivanovo – Chintz capital, so take a look at the Museum of Ivanovo chintz, To learn about the peculiarities of textile production from ancient times to the present. The exposition will guide you along the long path of development of this applied art: from ancient patchwork to the works of Slava Zaitsev, who was born and studied in this city. It is not superfluous for a sightseeing tour Ivanovo Regional Art Museum with unique samples of antique, western and Russian art: paintings, sculptures, photos, porcelain. In Ivanovo there are several ancient churches: Kazan, Vvedenskaya, Ilyinskaya, the Church of the Assumption of the Blessed Virgin.
What to bring: Ivanovo knitwear, chintz textile, exclusive batik, shawls, Shuya soap.
Suzdal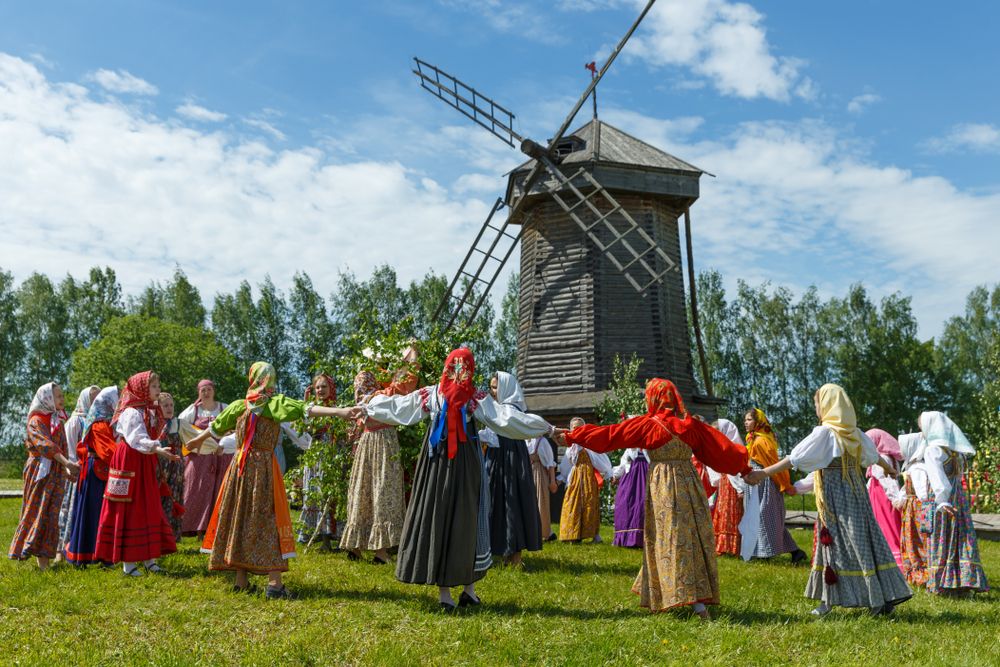 Suzdal – the city of holidays with a merchant's swagger
Hospitable Suzdal – A unique open air museum, an island of Old Russia. The White Stone Kremlin with buildings of pre-Mongolian period, several monasteries, Museum of Wooden Architecture with beautifully preserved barns, houses, mills and temples – all of this delights, surprises and touches the heart. Look for souvenirs in the trading rows, walk to the impressive Spaso-Evfimiev Monastery with a viewing platform. Suzdal is also famous for large-scale public festivals, and the excitement doesn't necessarily have to do with national holidays. Dances, driving "troika" and down the mountain, soulful meal with a whole folklore show – you'd like to come back to this city if not to stay here, then several times..!
What to try: Rye flour pies, kulebyaki, stuffed sterlet, tsar's pike, suckling pig, game – elk, wild boar, pheasant, quail.
What to bring: famous Suzdal mead of different kinds, valenki, kokoshniki, clay toys.
Vladimir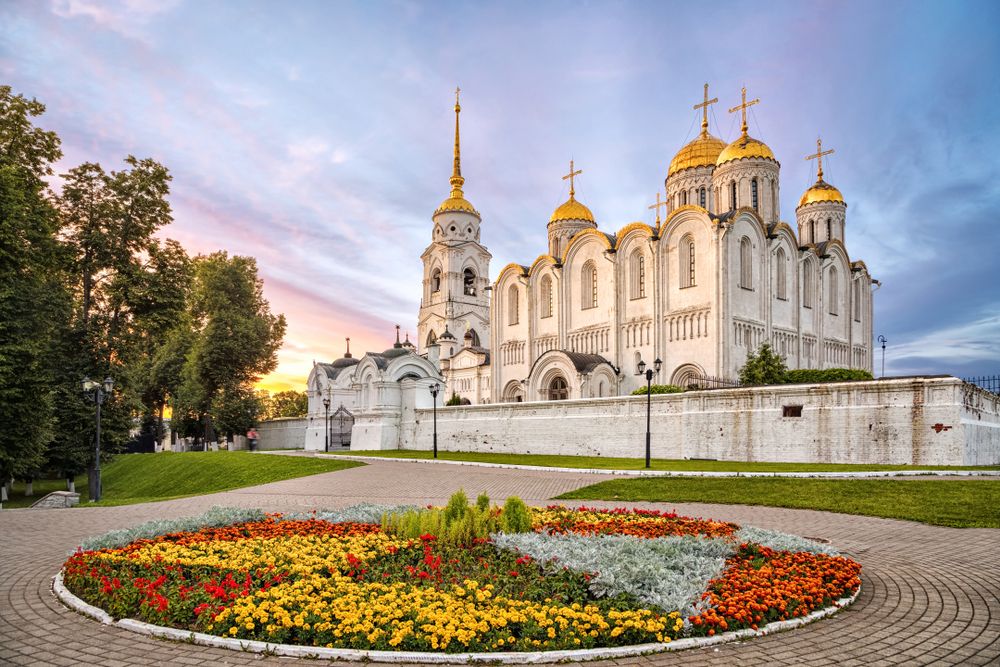 In Vladimir, you can study Russian history while walking through the streets of the city
The capital of the Old Russian state – a treasure trove for historians, pilgrims and inquisitive travelers. Vladimir and Suzdal Museum Reserve – A huge complex, including architectural monuments and collections of two cities at once. Elegant Golden Gate – Vladimir's main attraction, where you can see with your own eyes the architectural features of traditional Russian architecture, make a wish and see ancient weapons in the museum at the top of the building. To see all the white-stone churches, you'll need to stay in the city for a couple of days. A short program includes a visit to Assumption Cathedral With the frescos of Andrei Rublev, Dmitrievsky Cathedral with striking carvings, Nativity Monastery With ancient structures. From the tower Kozlov shaft In the summer of September, tourists will admire the marvelous view of Vladimir, in the stalls of trading rows tourists will find the best souvenirs in Herzen Institute The author of "Moscow – Petushki" Venedikt Yerofeyev studied there, and famous for his song by Mikhail Krug Vladimir Central Attracts tourists with a thematic museum. В Historical Museum impressive collection of archaeological finds, paintings and icons, the Chambers visitors will be able to view several exhibits: costumes, toys, fine and applied arts, in Stoletov Brothers House Interesting stories about the life of a merchant family.
What to try: Live beer, spicy mead, pelmeni, pancakes.
What to bring: Souvenirs with the sights of Vladimir, caskets, crystal, lacquer miniatures, noodles, patchwork.
Kasimov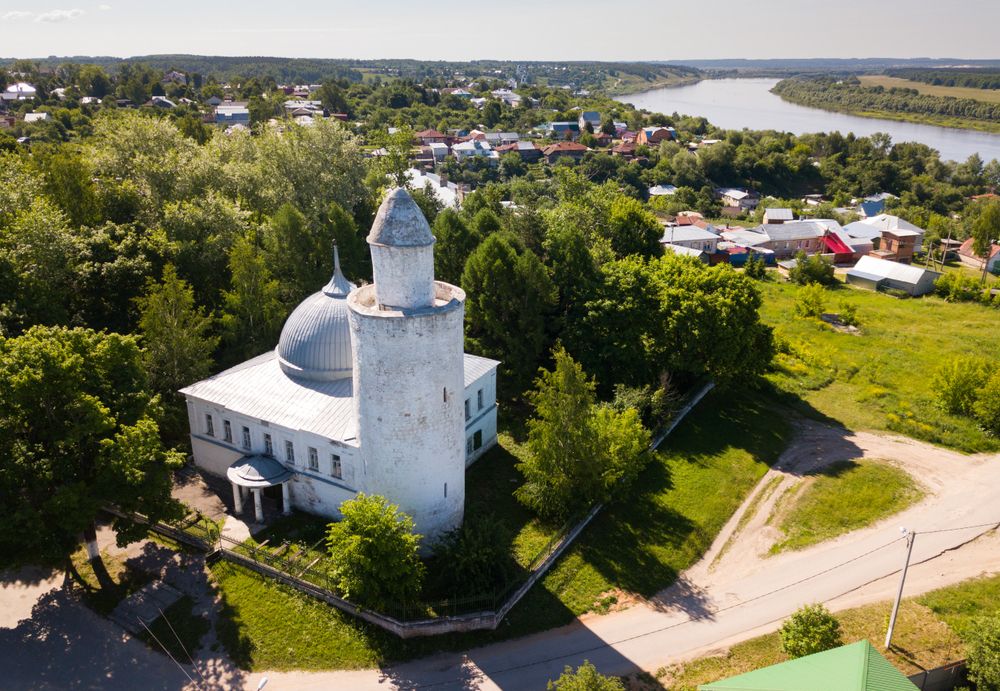 Kasimov – the symbiosis of two cultures heritage
The capital of the Kasim Khanate has only recently joined the Golden Ring route, but it has already gained popularity among tourists with its original merchant houses, Cathedral Square, Ascension Cathedral и Local history museum with collections of artistic castings, costumes of Kasimov Tatars, polychrome sculpture and Vyrkov toys. Muslim rulers are reminded of Khan mosque и Afghan-Mohammed Sultan Mausoleum.
What to Try: Solyanka, okroshka, rabbit stew and cutlets, chak-chak, belyashi, lula kebab.
What to bring: Pickles, skullcaps, sweets from the local confectionery factory "Loyalty to Quality".
Kaluga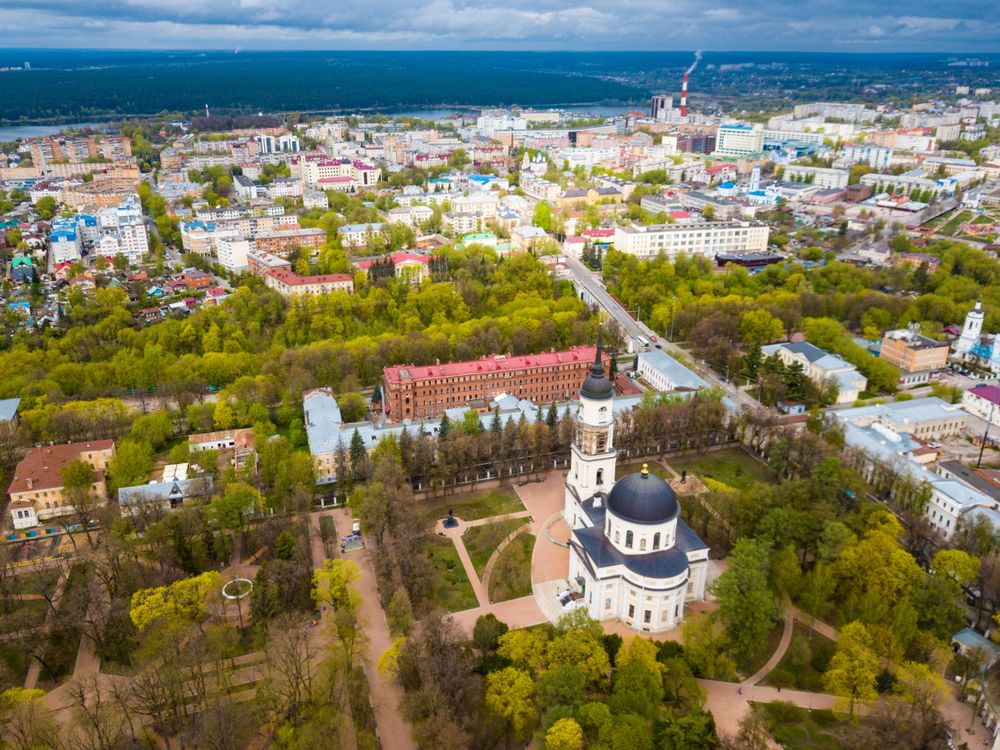 Kaluga – birthplace of Russian cosmonautics
And another new gem in Russia's Golden Ring is the beauty Kaluga. The sights of the central part are represented by classic merchant mansions, typical for a pre-revolutionary provincial city. The architectural ensemble is complemented by ceremonial arches and a large palace Trinity Cathedral. Travelers are likely to be impressed by the splendid St. George Church, huge Gostiny Dvor, Stone Bridge. But the most visited cultural objects in Kaluga are Tsiolkovsky house-museum и Museum of the History of Astronautics With unique exhibits: "Vostok" rocket and descent vehicles.
What to try: Beef medallions, rich chicken noodles, rack of lamb, sturgeon steaks, Old Believer soup, Old Moscow borscht, sea buckthorn tea.
What to bring: Kaluga dressing – original napkins, shawls and tablecloths; amulets with local ornaments, printed spice cakes, Kaluga dough – a sweet mixture of crackers, syrup, nuts and dried fruits.